While we'll drop all the trailers and big news in separate posts, we will also post roundups as we go for cool tidbits that haven't enough info to warrant a full post.
So, without further ado, all the way from Star Wars Celebration Europe, here's the other cool stuff you should know.
Star Wars Skeleton Crew.
A trailer for this new show – due in 2023 – was dropped at the event but sadly it was exclusive to the main hall and no plans to drop it online as of now.
Jude Law will play a Jedi in the series which follows a group of kids who go on an adventure throughout the galaxy. It will also star Ravi Cabot-Conyers, Kyriana Kratter, Kerry Condon and Robert Timothy Smith.
One of the kids (Patawans?) is the same species as Max Rebo, left! We're guessing it's the kids with the motion capture equipment in the images below.
The series is referred to as having an Amblin-feel, with it being compared to Goonies… but in a Star Wars way. Sounds cool.
The list of directors is very impressive:
Jon Watts, David Lowery, The Daniels, Jake Scherier, Bryce Dallas Howard and Lee Isaac Chung will bring this new adventure to Disney+ towards the end of 2023.
We also have this sneak peek at the event:
More to come…
The Acolyte
Firstly, the upcoming High Republic era series has a new logo:
While we here at home weren't privy to the first footage shown at the event of the still filming series, reports have it that there was a lot of younglings being trained and some very cool hand-to-hand fighting… this is very exciting news.
You can see the leaked footage if you look for it though😉
Showrunner Leslye Headland has described it as being inspired by Samurai movies and being a cross between Kill Bill and Frozen… bet that got your attention lol.
The show will bridge some of the gap between the golden age of the Jedi, the High Republic, and the prequels and will see the rise of the Sith ad be told from the point of view the bad guys, something we haven't seen before and it promises to only be one of the previously unseen things in Star Wars the series promises,
Oh, and Joonas Suotamo, who played Chewbacca in Solo: A Star Wars story and the sequel trilogy will be playing Kelnacca, a Wookie Jedi (below) – something that fans of The High Republic books and CLone Wars series will be familiar with but has never been seen onscreen before.
The series stars Jodie Turner-Smith, Manny Jacinto, Dafne Keen, Rebecca Henderson, Carrie-Anne Moss, Dean-Charles Chapman, Charlie Barnett and Margarita Levieva.
The Acolyte finishes filming next month and will premiere in 2024 on Disney+.
BIG NEWS! I'm playing Wookiee Jedi Kelnacca in #TheAcolyte! That's right, a WOOKIEE JEDI. I'm beyond thrilled to be returning to #StarWars as part of a new and exciting original story and I can't wait for you to see it. pic.twitter.com/TTrS3F0Gh4

— Joonas Suotamo (@JoonasSuotamo) April 7, 2023
In big news for fans of The High Republic, it's been revealed that one of the main characters in those stories, Vernestra Rwoh, will be in the series, played by Rebecca Henderson:
Recognizing our mistakes and doing better is the path of a Jedi.

Rebecca Henderson is Vernestra Rwoh in The Acolyte, an upcoming Original Star Wars series from Lucasfilm coming to @DisneyPlus in 2024. #StarWarsCelebration

— Star Wars (@starwars) April 8, 2023
Our friends at KnightEdgeMedia have reported that "The Acolyte is about force-sensitive twins separate at birth. One becomes a Sith assassin, while the other a Jedi apprentice. Both played by Amandla Stenberg."
If true, this could be a neat slant on the story…
Andor Season 2
Footage from the still filming Andor Season 2 was shown at the event and it looks like it's all really ramping up from season 1.
While there wasn't a lot of news, we learned from writer Tony Gilroy that season 2 will lead directly into the events of Rogue One: A Star Wars Story.
We also learned that, and fans will love this, fan-favorite character Kino Loy, played by the great Andy Serkis who was at the event, will be returning for season 2, confirming that he didn't die after season 1's jail break. This is great news as Loy was a superb character and the best thing in a series that brought a lot of great stuff to the table.
Return of the Jedi 40th Anniversary
Yes! Return of the Jedi is heading back to cinemas on April 28th to mark the anniversary!
A new poster for 'RETURN OF THE JEDI' by Matt Ferguson has been revealed for the film's 40th anniversary #SWCE pic.twitter.com/glWa6EhhVX

— DiscussingFilm (@DiscussingFilm) April 8, 2023
Hi-res version: This poster by Matt Ferguson is beautiful:
The High Republic.
As well as the reveal above that The High Republic's Vernestra Rwoh will be appearing in The Acolyte, we have more details on the series' third wave all the way from Star Wars Celebration in London.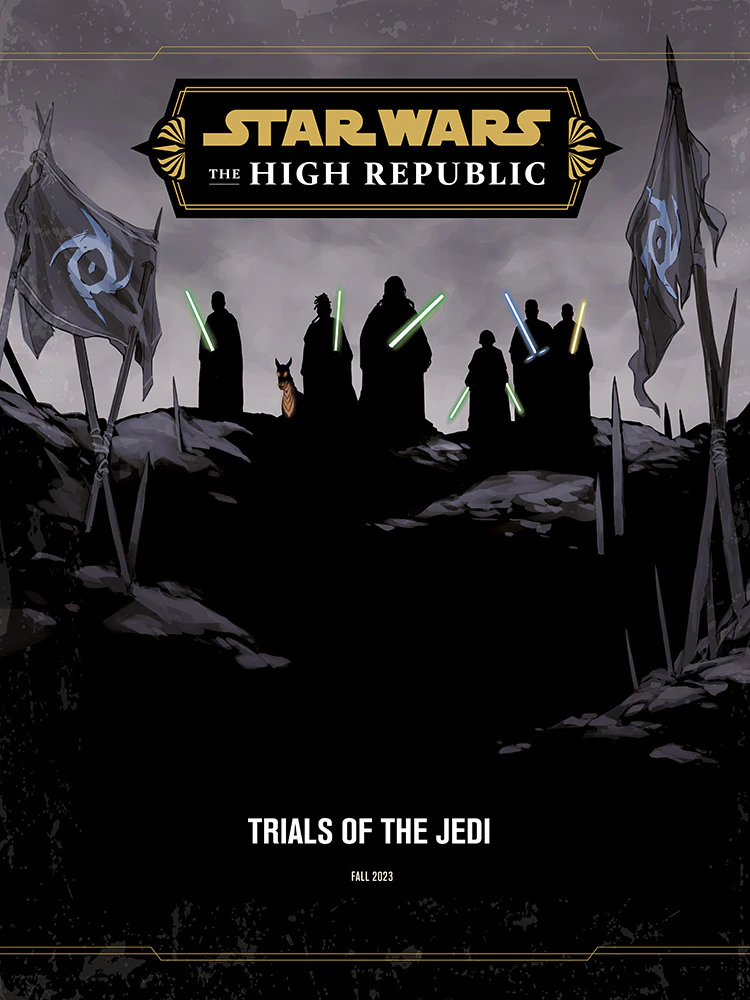 Story takes place one year after Phase II, kicking off on November 14th with George Mann's Eye of Darkness.
Lucasfilm publishing director Michael Siglain said that, in order to let readers catchup, the releases will be more spread out: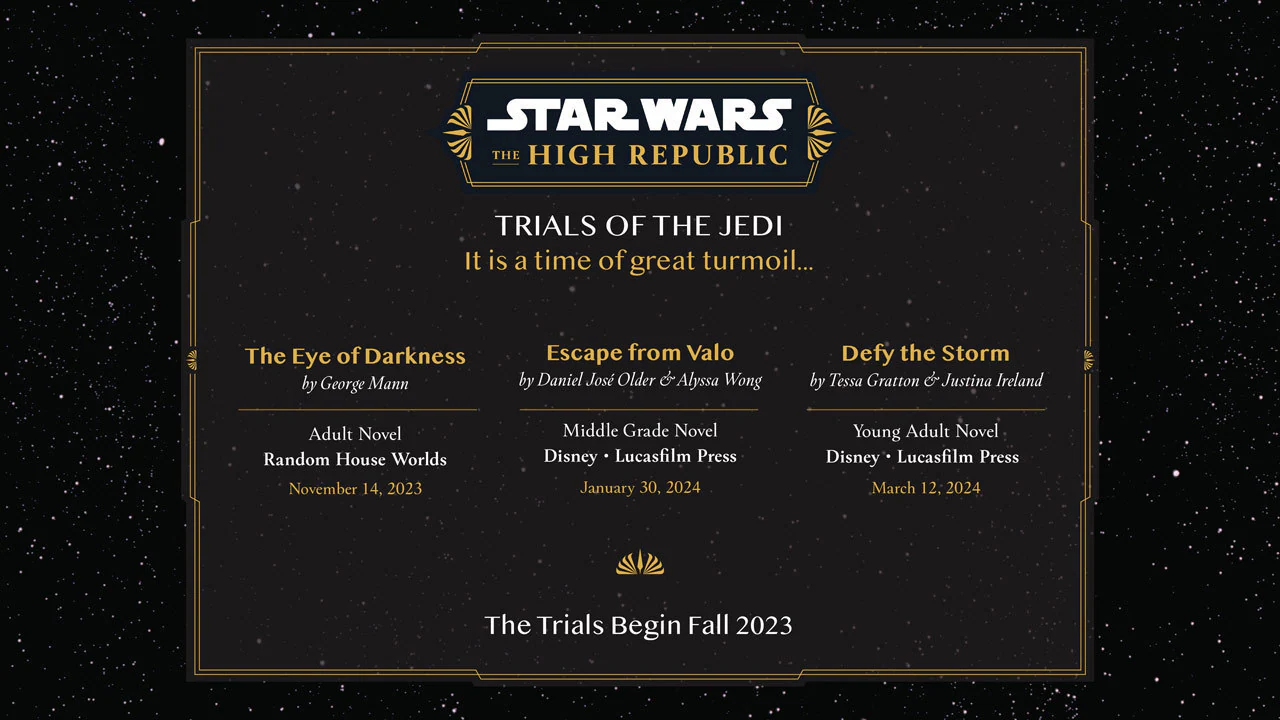 Here is the list of every other release coming from phase 3 and their release window:
Temptation of the Force by Tessa Gratton – Adult novel – Summer 2024
Beware the Nameless by Zoraida Córdova – Middle-grade novel – Summer 2024
Tears of the Nameless by George Mann – Young adult novel – Fall 2024
Into the Light by Claudia Gray – Young adult novel – Spring 2025
A Valiant Vow by Justina Ireland – Middle-grade novel – Spring 2025
Trials of the Jedi by Charles Soule – Adult novel – Spring 2025
Cavan Scott and Daniel José Older will return to The High Republic and The High Republic Adventures comic series in December 2023.
Lydia Kang will be penning short stories for Star Wars Insider called Chronicles from the Occlusion Zone and will begin this October.
The still ongoing Phase II will wrap up with Night of Sorrow and here's the artwork:
Tales of the Jedi
While there are not many details, we've been told that season two of the beautiful animated series Tales of the Jedi is coming!
Showrunner Dave Filoni has revealed that he made this series when he saw how much fun the crew were having making Bad Batch, therefore, he did it because he wanted to work with the Clone Wars crew again. Fair enough.
At the Clones Wars 15th anniversary panel, Filoni said: "Tales of the Jedi was so fun the first time, I decided to do some more."
Dave Filoni announces a second season of #TalesoftheJedi: https://t.co/jdc1IKZAhI #TheCloneWars #StarWarsCelebration pic.twitter.com/t5rjmqAcnL

— Star Wars (@starwars) April 8, 2023